The Archetype Gallery in New York, NY has relocated from SoHo to Mercer City. The gallery is curretly occupying a 5,000-square-foot space in a historic, cast-iron-detailed building, which used to house a machine shop on two floors. Meanwhile, Leucos USA Inc. has introduced its first line of glass accessories. Jody Harrow, on the other hand, has come up with subtly shaded, highly detailed and seemingly three-dimensional rugs that interior decorators may mistake for paintings or photographs.
New York City's Archetype Gallery has always been known for a discriminating collection of what its owners and curators Iris Demauro and Robert Gaul term "functional art objects," including furniture, lighting, and accessories. In fact, the gallery's art pieces, though one-of-a-kind, are designed and constructed to be classical rather than trendy so that they may gracefully coexist with antiques.
The gallery outgrew the space in its former SoHo location and has recently moved to a new permanent home on Mercer Street. The new space is in a historic, cast-iron-detailed building which used to house a machine shop on two floors. DeMauro and Gaul restored the landmark building's 5-story facade, removing decades of paint that hid the turn-of-the-century brownstone. Inside, the 5,000-square-foot space is artfully divided to display just the right amount of merchandise, including everything from pillows and candles, to glass and tableware, to furniture and even jewelry. Through expert curating, each piece in some way complements its neighboring objects. Downstairs, Archetype has dedicated a back wall to an enormous selection, by most home furnishings retailer's standards, of knob and hardware companies including Aram, Primaltech, Hemisphere, David Landis, Gem An Eye Arts, and others.
In addition to its drama, and the beauty and intrigue of both its interior and of its objects for sale, Archetype's merchandise is reasonably priced considering the caliber of artists and quality of their products. The gallery also offers designers a 10 percent discount.
LEUCOS EXPANDS GLASSWORKS OPERATION
Leucos, headquartered in the Murano region of Venice and known for its lighting fixtures and Formelle glass panels, has introduced its first line of glass accessories. Designed by Noti Massari, Renato Toso, Roberto Pamio, and Guisto Toso, the collection consists of Giants, a collection of boldly colored vases of blown glass with overscaled dimensions: Dragons, a group of pastel-colored trays, fruit bowls, and containers created by melting sheets of colored glass with forms of blown glass; and Heroes, transparent sculptures achieved by a patented technique of layering glass. Featured here is part of the Giants collection of blown-glass vases in bold tones of red, yellow, blue, and green.
RUG WITH A VIEW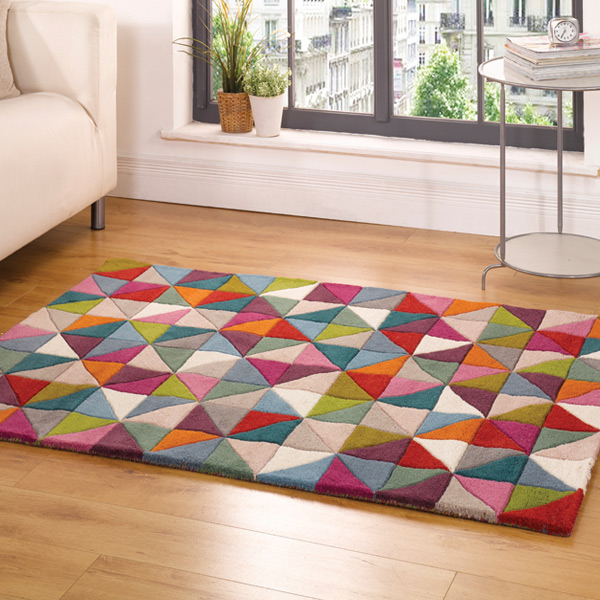 One look at Jody Harrow's rug designs, and it's hard to tell whether they am paintings, photographs, or the tufted works of art that they really are. Harrow is the founder of the Minneapolis, Minnesota-based company, Groundplans, which offers her collection of 100 percent wool hand-tufted rugs. And her subtly shaded, highly detailed, seemingly three-dimensional rugs, which are produced in France and issued in limited editions of 100 each, were inspired by her apprenticeship with the late Keisuke Serizawa, a famous Japanese stencil and dyeing artist. Featured here are: Autumn Leaves, Field of Moss,and Spring Blossoms, each one a remarkable interpretation of nature's beauty. Harrow works with interior designers, architects, and private clients on custom commissions as well.